SHIPPING: Custom Hardwood Steps & Railings to Kingston, Ontario
We ship wood steps and hardrailing into Southern Ontario every week via Apex Motor Express. For smaller orders we can use Canada Post or UPS, but most of the time the wood parts are far too heavy to use these smaller package handlers safely.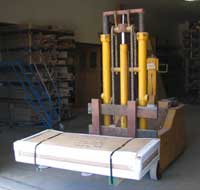 With a trucking company we can palletize hardwood steps, band them and ship directly to a depot in Kinston Ontario. This makes it relatively easy to protect all fragile edges.
We have found Apex Motor Express to be extremely reliable. You have basically two options, either pick it up at their depot (see address below), so you're not waiting in for the courier or have them deliver your material to a local address for an additional charge.
We always confirm shipping costs before we proceed with any orders, so you don't get any surprises.
Shipping To The Kingston ON and Area, Apex Truck Depot:
The Apex depot is at 1378 Fortune Cres. in Kingston, just north-west of Kingston proper, and they can be held there for you to pick up.
Phone: 1-613-634-8488 (see map below)
Pricing: $90.00 plus taxes for up to 500lbs
(this is equivalent to more than 40 custom hardwood stairs or some collection of treads, newels posts and/or handrails. even Toronto homes usually don't use quite that many steps

Direct to Home:
We can still use Apex Motor express for a door to door delivery, but they then transfer your material to a smaller courier that is permitted to drive through residential neighbourhoods.
Pricing: would have to be quoted on a address-by-address basis.
If you have a business location that you can use for the drop off, Apex will deliver to a business address in Kingston proper for the same depot cost as long as someone is available to unload the shipment. If no forklift is accessible you may have to cut the bands and unload a piece at a time.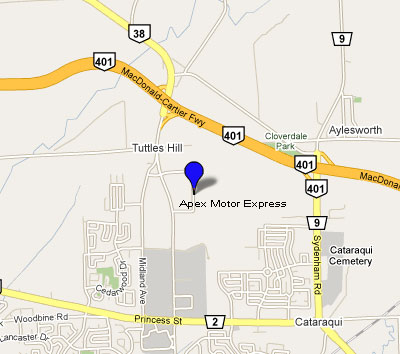 More Information:
You can fax or email over a shopping list and we'll get right back to you with pricing. We custom make stair treads and wood and metal railings in the sizes, shape and wood that you desire and then ship them to you in Kingston, Ontario Canada.